食物主权按:在令人震惊的新书《改变的基因、扭曲的真相》中,美国公共利益律师史蒂芬·德鲁克(Steven Druker)揭示了美国政府和主要科研机构如何系统地歪曲关于转基因生物的事实以及质疑其安全性的科学研究。著名灵长类动物学家达米·珍妮•古黛尔(Dame Jane Goodall)撰写的前言将它称为"毫无疑问,过去五十年里最重要的一本书之一"。 这部专著是德鲁克超过十五年深入研究与调查的结果,他因为发起对美国食品和药物管理署(FDA)的诉讼,迫使FDA公布了他们关于转基因食品的档案。美国一位法律博士的评论令人深省:"《改变的基因、扭曲的真相》让人清醒、明白与警醒。作为纽约市前检察官,我震惊地发现FDA如何违法让转基因食品逃避联邦法规规定的严格测试要求。作为三个幼童的妈妈,了解到美国的儿童被无情暴露于FDA的专家自己都认为存在异常风险的实验性转基因食品时,我感到非常愤怒。"美国一位资深计算机软件专家评论:"他从软件工程的角度审查基因工程的问题尤其深刻,揭示基因工程更像一个'黑客',而不是修改复杂信息系统的认真的、系统化的方法。"【评论:《改变的基因、扭曲的真相》对正在召开的"两会"具有极其重大警钟意义!】
珍妮·古黛尔撰写的前言:"过去50年最为重要的书之一"
书名:《改变的基因、扭曲的真相》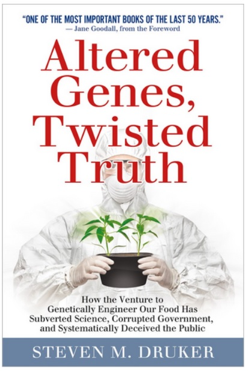 促进食品转基因的企业怎样颠覆科学、腐蚀政府与欺骗公众
新书《改变的基因、扭曲的真相》的封面,来源:亚马逊
In an acclaimed new book, American public interest attorney Steven Druker reveals how the US government and leading scientific institutions have systematically misrepresented the facts about GMOs and the scientific research that casts doubt on their safety.
在令人震惊的新书《改变的基因、扭曲的真相》中,美国公共利益律师史蒂芬·德鲁克揭示了,美国政府和主要科研机构如何系统地歪曲关于转基因生物的事实以及质疑其安全性的科学研究。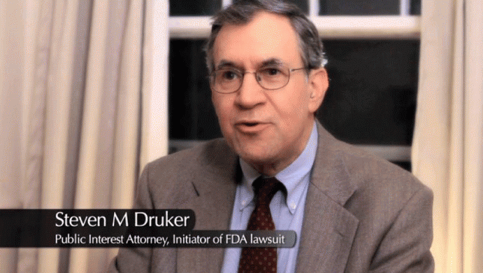 斯蒂芬·M·德鲁克,公共利益律师,起诉美国食品药物管理署案发起者
The book, Altered Genes, Twisted Truth, features a foreword by the renowned primatologist Dame Jane Goodall, hailing it as "without doubt one of the most important books of the last 50 years".
在为《改变的基因、扭曲的真相》(Altered Genes, Twisted Truth)撰写的前言中,著名灵长类动物学家达米·珍妮•古黛尔(Dame Jane Goodall)将它称为"毫无疑问,过去五十年里最重要的一本书之一"。
The book's revelations come at a crucial time when the some European countries are considering the commercial planting of GM crops following the European Parliament's decision to allow member states to opt out of the blockade that has barred them from the EU until now.
这本书在关键时刻揭露了真相:欧洲议会决定允许成员国自己选择是否商业化种植转基因作物以后,某些欧洲国家正在考虑转基因作物的商业化种植。
Based on the evidence presented in the book, Druker and Goodall will assert that it would be foolhardy to push forward with a technology that is unacceptably risky and should never have been allowed on the market in the first place.
基于这本书中提出的证据,德鲁克与古德奥尔断言,继续推动转基因技术是愚蠢鲁莽的,因为它的风险高得不可接受,而且本来就不应该被允许进入市场。
The book is the result of more than 15 years of intensive research and investigation by Druker, who came to prominence for initiating a lawsuit against the US Food and Drug Administration (FDA) that forced it to divulge its files on GM foods. Those files revealed that GM foods first achieved commercialization in 1992 only because the FDA:
这部专著是德鲁克超过十五年深入研究与调查的结果,他因为发起对美国食品和药物管理署(FDA)的诉讼,迫使FDA公布了他们关于转基因食品的档案。案卷揭示:1992年转基因食品首次实现商业化,仅因为FDA:
• Covered up the extensive warnings of its own scientists about their dangers.
• 将FDA自己科学家对于转基因危险性提出的全面警告掩盖起来
• And then violated federal food safety law by permitting these foods to be marketed without having been proven safe through standard testing.
• 违反联邦食品安全性法律,在没有通过标准试验证实其安全情况下允许转基因食品上市
The book points out that if the FDA had heeded its own experts' advice and publicly acknowledged their warnings that GM foods entailed higher risks than their conventional counterparts, the GM food venture would have imploded and never gained traction anywhere.
这本书指出,如果FDA听从了自己专家的忠告并公开承认专家提出的转基因食品比传统食品具有更高风险的警告, 转基因食品企业必然崩溃,再不会在任何地方获得推动力。
• Many well-placed scientists have repeatedly issued misleading statements about GM foods, and so have leading scientific institutions such as the US National Academy of Sciences, the American Association for the Advancement of Science and the UK's Royal Society.
•某些有身份的高级科学家对转基因食品一再发表误导性陈述,一些领先的科研机构,如美国国家科学院(US National Academy of Sciences)、美国科学促进协会(American Association for the Advancement of Science)和英国皇家学会(UK's Royal Society)也如法炮制。
• Consequently, most people are unaware of the risks these foods entail and the manifold problems they have caused.
•后果是,大部分人不知道转基因食品包含的风险以及它们造成的一系列问题。
• Contrary to the claims of biotech advocates, humans have indeed been harmed by consuming the output of genetic engineering. In fact, the technology's first ingestible product (a food supplement of the essential amino acid, L-tryptophan) caused dozens of deaths and seriously sickened thousands of people (permanently disabling many of them). Moreover, the evidence points to the genetic alteration as the most likely cause of the unusual contamination that rendered the supplement toxic.
• 与生物技术鼓吹者的声称相反,食用转基因产品的人已经确实受害。事实上,该项技术的首个可食用的产品(左旋色氨酸,一种至关重要的氨基酸补阳品)造成了数十人死亡与数千人的严重疾病(其中许多永久瘫痪)。此外,有关证据将造成保健品毒性的不同寻常的污染最可能的原因指向基因转变。
• Laboratory animals have also suffered from eating products of genetic engineering, and well-conducted tests with GM crops have yielded many troubling results, including intestinal abnormalities, liver disturbances, and impaired immune systems.
• 实验动物也遭受到转基因饲料的伤害,对转基因作物进行的严格试验得出了许多令人不安的结果,包括肠道异常、肝脏障碍,与免疫系统受损害。
• Numerous scientists (including those on the FDA's Biotechnology Task Force) have concluded that the process of creating genetically modified food radically differs from conventional breeding and entails greater risk.
• 无数科学家(包括美国FDA生物技术任务组的科学家)得出结论,创造转基因食品的过程与传统育种极端不同,它包含很大的风险。
• There has never been a consensus within the scientific community that GM foods are safe, and many eminent experts have issued cautions – as have respected scientific organizations such as the Royal Society of Canada and the Public Health Association of Australia.
• 科学界内部对转基因食品的安全性从来就没有共识,许多著名的专家都发出过警告 –包括加拿大皇家学会(加拿大科学院)(the Royal Society of Canada)和澳大利亚公共卫生协会(the Public Health Association of Australia)在内的令人尊敬的科学组织也发出过类似的警告。
Druker says: "Contrary to the assertions of its proponents, the massive enterprise to reconfigure the genetic core of the world's food supply is not based on sound science but on the systematic subversion of science – and it would collapse if subjected to an open airing of the facts."
德鲁克说:"与其支持者的主张相反大型企业重新配置世界粮食供应的基因核心,不是基于合理的科学,而是对科学的系统颠覆——事实一旦公开,它必定崩溃。"
At their upcoming press conference, he and Jane Goodall intend to challenge the Royal Society to confront the facts, apologize for the misleading statements that it and several of its prominent members have issued, and take earnest steps to set the record straight.
在即将举行的新闻发布会上,德鲁克与珍妮•古黛尔打算挑战英国皇家协会,要求他们面对事实,就其自身和几位著名成员发布的误导性陈述进行道歉,并采取切实措施进行纠正。
In her foreword to Altered Genes, Twisted Truth, Goodall commends it for countering the disinformation and providing much-needed clarity. She states: "I shall urge everyone I know who cares about life on earth, and the future of their children, and children's children, to read it. It will go a long way toward dispelling the confusion and delusion that has been created regarding the genetic engineering process and the foods it produces. . . . Steven Druker is a hero. He deserves at least a Nobel Prize."
在她为《改变的基因、扭曲的真相》撰写的前言中,古德奥尔称赞这本书打击了虚假信息并且提供了急需的清晰度。她说:"我敦促我知道的关心地球生命、关心孩子的未来和孩子的孩子的未来的所有人都阅读这部书。消除有关遗传工程过程和它生产的食物的混乱和妄想还有很长的路要走……斯蒂芬·德鲁克是一位英雄。他至少应当得到一个诺贝尔奖。"
Pat Thomas, Director of UK campaigning group Beyond GM, which is facilitating the press launch, says: "Under pressure from new legislation and the ongoing TTIP negotiations, the UK and the rest of Europe are on the precipice of making sweeping changes to their historical stance on GMOs. Much of our regulatory framework has been informed by foundations laid down in America in the early 1990s, and the belief that they got it right in terms of understanding the science of genetic modification. Steven Druker's investigation into the history of fraud and deceit that ushered in the era of GMOs deserves serious consideration before we take actions that will irreversibly alter the European food supply".
帕特·托马斯(Pat Thomas)是协助组织这次新闻发布会的英国超越转基因运动团体的主任,他说:"在新的立法和TTIP (跨大西洋贸易与投资伙伴协议)持续谈判的压力下,英国和欧洲其他国家正处于彻底改变它们对转基因的历史立场的边缘。我们的监管框架很大程度上是建立于美国1990年代早期告知我们的信息,以及相信他们对基因改造科学的认识是正确的基础上。斯蒂芬·德鲁克对开创了转基因生物时代的欺诈和欺骗历史的调查,在我们采取不可逆转地改变欧洲食品供应的行动之前,值得认真考虑"。
About Steven Druker
关于斯蒂芬·德鲁克
Steven Druker is an American public interest attorney and executive director of the Alliance for Bio-Integrity, the lead plaintiff in the lawsuit he initiated against the US Food and Drug Administration (FDA) that gained worldwide attention by exposing how the agency had enabled the commercialization of GM foods through a colossal fraud.
斯蒂芬·德鲁克是美国公共利益律师、"生物整体性联盟"(Alliance for Bio-Integrity)的执行主任以及对美国食品药物管理署(FDA)案的首席原告,由于揭露了FDA通过巨大骗局使得转基因食品商业化,他获得了全世界的关注。
About the book:
关于这本书:
Altered Genes, Twisted Truth – How the Venture to Genetically Engineer Our Food Has Subverted Science, Corrupted Government, and Systematically Deceived the Public
《改变的基因、扭曲的真相》——使我们促进食品转基因的企业投资冒险怎样破坏颠覆科学、腐蚀腐化政府与欺骗公众
By Steven M. Druker; Foreword by Jane Goodall.
INTRODUCTION: How I Reluctantly Became an Activist s-- And Uncovered the Crime that Enabled the Commercialization of Genetically Engineered Foods
引言:我如何不情愿地成为一名积极分子——并揭露了纵容转基因食品商业化的犯罪行为
1. The Politicization of Science -- And the Institutionalization of Illusion
2. The Expansion of the Biotech Agenda -- And the Intensification of the Politicization
3. Disappearing a Disaster -- How the Facts About a Deadly Epidemic Caused by a Genetically Engineered Food Have Been Consistently Clouded
3、让灾害消失——转基因食品造成致命流行病的事实如何一直被掩盖
4. Genes, Ingenuity, and Disingenuousness -- Reprogramming the Software of Life while Refashioning the Facts
4、基因、聪明才智和不诚实——在重塑事实的同时重新编程生命的软件
5. Illegal Entry -- The Governmental Fraud that Put GE Foods on the US Market
5、非法进入——让转基因食品进入美国市场的政府欺诈
6. Globalization of Regulatory Irregularity -- How Food Safety Officials in Canada, the EU, and Other Regions also Sidestepped Science and Sound Policy
6、监管违规的全球化——加拿大、欧盟以及其他区域的食品安全官员如何避开了科学和健全的政策
7. Erosion of Environmental Protection -- Multiple Risks, Minimal Caution
8. Malfunction of the American Media -- Pliant Accomplices in Cover-up and Deception
9. Methodical Misrepresentation of Risk -- Oversights, Anomalies, and 失职
10. A Crop of Disturbing Data -- How the Research on GE Foods Has Failed to Show They're Safe -- and Instead Confirmed They Should Be Off the Market
10、令人不安数据的农作物——对转基因食品的研究未能显示它们的安全性—— 反而确认它们应当从市场中清除出去
11. Overlooked Lessons from Computer Science -- The Inescapable Risks of Altering Complex Information Systems
11、被忽视的计算机科学的教训——改变复杂信息系统造成不可避免的风险
12. Unfounded Foundational Assumptions -- The Flawed Beliefs that Undergird Agricultural Bioengineering
12、毫无根据的基础性假设——加强农业生物工程的错误信念,
13. The Devolution of Scientists into Spin Doctors -- Genetic Engineering's Most Malignant Mutation
13、科学家堕落为舆论导向专家——基因工程的最恶性突变
14. New Directions and Expanded Horizons -- Abandoning Genetic Engineering and Advancing to Safe, Sustainable, and Sensible Modes of Farming
14、新的方向和扩大的视野——放弃基因工程,推进安全、可持续和明智的农业模式
Appendix A: Extended Examination of the Judge's Decision in Alliance for Bio-Integrity v. Shalala
附录A:扩展 "生物整体性联盟(原告)对Shalala(被告)案件中法官裁决的审查
Appendix B: Two Reports by Other Respected Organizations that Misrepresent the Risks of GE Foods
附录B:其他受人尊敬的机构歪曲转基因食品风险的两份报告
Comments at on Altered Genes, Twisted Truth posted at Amazon website:
《亚马逊网站》上发布的对于《改变的基因、扭曲的真相》的评论:
"A fascinating book: highly informative, eminently readable, and most enjoyable. It's a real page-turner and an eye-opener."
Richard C. Jennings, PhD
Department of History and Philosophy of Science, University of Cambridge
"这是一本令人着迷的书:信息丰富,可读性强且十分有趣。这是一本真正的引人入胜、令人大开眼界的书。"
"This incisive and insightful book is truly outstanding. Not only is it well-reasoned and scientifically solid, it's a pleasure to read – and a must-read. Through its masterful marshaling of facts, it dispels the cloud of disinformation that has misled people into believing that GE foods have been adequately tested and don't entail abnormal risk."
David Schubert, PhD, molecular biologist and Head of Cellular Neurobiology,
Salk Institute for Biological Studies
"这本尖锐而深刻的书极为出色。它的不仅合理的和科学上实在,而且有阅读性 -- 是一本必读书。通过高超编组的事实,它驱散了误导人们相信转基因食品已经充分测试不具有异常危险的虚假信息雾霾。"
大卫·舒伯特,博士,分子生物学就与索尔科生物研究所分子神经生物学负责人
"A great book. The evidence is comprehensive, clear, and compelling. No one has documented other cases of irresponsible behavior by government regulators and the scientific establishment nearly as well as Druker documents this one. His book should be widely read and thoroughly heeded."
John Ikerd, PhD Professor Emeritus of Agricultural Economics,
University of Missouri
"一本伟大的书。证据全面、清楚且引人注目。没有人如同德鲁克一般记录政府监管机构和科研机构不负责任行为的案例。他的书值得广泛阅读和认真留意。"
"Steven Druker's meticulously documented, well-crafted, and spellbinding narrative should serve as a clarion call to all of us. In particular, his chapter detailing the deadly epidemic of 1989-90 that was linked with a genetically engineered food supplement is especially significant. . . . Overall his discussion of this tragic event, as well as its ominous implications, is the most comprehensive, evenly-balanced and accurate account that I have read."
Stephen Naylor, PhD Professor of Biochemistry, Mayo Clinic (1991-2001)
"斯蒂芬·德鲁克所小心记录、精心设计的引人入胜的故事,应该对我们所有人形成号召。特别是,他详述1989-1990致命流行病与转基因食品补充剂的联系的一章,意义特别重大 ...他对这场悲惨事件的总体讨论,及其不祥影响,是我所读到过的最为综合、平衡与准确的描述。"
斯梯芬·奈勒,博士,生物化学教授,玛幼诊所(1991-2001)
"A landmark. It should be required reading in every university biology course."
Joseph Cummins, PhD Professor Emeritus of Genetics, Western University, Ontario
"这是一个里程碑。它应该成为每个大学的生物学课程必读书。"
约瑟夫·卡敏斯,博士,遗传学名誉教授,加拿大安大略西部大学
"Altered Genes, Twisted Truth is lucid, illuminating, and alarming. As a former New York City prosecutor, I was shocked to discover how the FDA illegally exempted GE foods from the rigorous testing mandated by federal statute. And as the mother of three young kinds, I was outraged to learn how America's children are being callously exposed to experimental foods that were deemed abnormally risks by the FDA's own experts."
"《改变的基因、扭曲的真相》清晰明白且发人深省。作为纽约市前检察官,我震惊地发现FDA如何违法地让转基因食品逃避联邦法律所规定的严格测试要求。作为三位幼童的妈妈,我愤怒地了解到美国的儿童被无情暴露于FDA的专家自己认为存在异常风险的实验性转基因食品面前。"
"Altered Genes, Twisted Truth is very readable, thorough, logical and though- provoking. Steven Druker exposes shenanigans employed to promote genetic engineering that will surprise even those who have followed the ag-biotech industry closely for years. I strongly recommend his book."
Belinda Martineau, PhD, molecular biologist,a co-developer of the first genetically engineered whole food,
author of First Fruit: The Creation of the Flavr Savttm Tomato
and the birth of biotech Foods
"《改变的基因、扭曲的真相》极具阅读性、透彻性、逻辑性和思考价值。史蒂芬·德鲁克揭露一批诡计多端者受雇以推进转基因技术,对此即便
多年密切关注农业--生物技术产业的人也会感到震惊。我强烈推荐他的书。"
贝琳达·马丁俄奥,博士,分子生物学家,
头一种转基因全食品合作研发者
《头一种水果:Flavr Savttm转基因西红柿的创造与生物技术食品的降生》的作者
"Steven Druker has done a beautiful job of weaving a compelling scientific argument into an engaging narrative that often reads like a detective story, and he makes his points dramatically and clearly. The examination of genetic engineering from the standpoint of software engineering is especially insightful, exposing how the former is more like a 'hackathon' than a careful, systematic methodology for revising complex in information systems. I will recommend this book to my friends."
Thonmas J. McCabe, devloper of the cyclomatic complexity software metric,
a key analytic tool in computer programming employed throughout the world
"史蒂芬·德鲁克将一个令人信服的科学争论编写成引人入胜故事,读起来像一个侦探故事,同时其要点不失显著和清晰。他从软件工程的角度对基因工程的问题所进行的审查尤其深刻,揭示出基因工程更像一个'黑客'所为,而不是表现为修改复杂信息系统的认真的、系统化的方法。我将向我的朋友们推荐这本书。"
托马斯·J·麦卡比,世界范围计算机编程应用的关键性分析工具
循环复杂度软件度量的研发者
"Based on over 30 years of teaching computer science at universities and on extensive experience as a programmer in private industry, I can state that Steven Druker has done an excellent job of demonstrating the recklessness of the current practices of genetic engineering in comparison to the established practices of software engineering. His book presents a striking contrast between the two fields, showing how software engineers progressively developed greater awareness of the inherent risks of altering complex information systems - and accordingly developed more rigourous procedures for managing them - while genetic technicians have largely failed to de either, despite the fact that the information systems they alter are far more complex, and far less comprehended, than any human-made system."
"根据我在大学执教计算机科学30余年的经验以及在私人公司工作的经历,我可以说, 史蒂芬·德鲁克将基因工程中的鲁莽操作与软件工程所确立的操作进行比较的工作非常优异。他的书对两个领域的情况做了鲜明对比,表明软件工程师如何逐步发展出对于改变复杂信息系统固有风险的认识 -- 并且响应开发管理这些风险的更为严格的程序 -- 与此相反,基因技术人员们在相当意义上既没有能够认识到这样的风险,又没有开发出管理这些风险的更为严格的程序,尽管基因工程修改的信息系统在复杂程度和理解难度上远胜于任何人造系统。
"Steven Druker has written one of the few books I have encountered, in my many years of public interest work, with the capacity to drive major change in a major issue. What Ralph Nader's Unsafe at Any Speed was to the auto industy and what Rachel Carson's Silent Spring was to synthetic pesticides, Altered Genes, Twisted Truth will be to genetically engineered food. It is profoundly penetrating, illuminating, and compelling, and it could stimulate a monumental and beneficial shift in our system of food production.
"史蒂芬·德鲁克的作品,是我多年公共利益的工作中所遇到的有能力推动重大变化的几本书之一。如同拉尔夫·内德《任何速度都不安全》对汽车工业以及蕾切尔·卡逊《寂静的春天》对化学合成农药,《改变的基因、扭曲的真相》对转基因食品将发挥同样的作用。这本书有深刻而透彻、清晰而引人入胜,它可以推动我们食品生产系统中重大而有益的转变。"
"Druker's brilliant expose catches the promoters of GE food red-handed: falsifying data, corrupting regulators, lying to Congress. He thoroughly demonstrates how distortions and deception have been piled one on to another, year after year, producing a global industry that teeters on a foundation of fraud and denial. This book is sure to send shockwaves around the world."
Jeffrey M. Smith,
international bestselling author of Seeds of Dececption & Genetic Roulette
"德鲁克出色地揭露了转基因食品推动者的违法行为:伪造数据、腐化监管机构、欺骗国会。他透彻地揭示一个又一个扭曲和欺骗如何成为更多扭曲和欺骗的依据,年复一年堆积起来,从而在摇摇欲坠地欺诈和否认基础上造就了这个全球行业。这本书必将在全世界造成冲击。"
杰弗里·M·史密斯,世界畅销《欺骗的种子》与《转基因轮盘赌》的作者
"Altered Genes, Twisted Truth reveals how the inception for molecular biotechnology ignited a battle between those committed to scientific accuracy and the public interest and those who saw genetic engineering's commercial potential. Steven Druker's meticulously researched book pieces together the deeply disturbing and tremendously important history of the interwined science and politics of GMOs. Understanding this ongoing struggle is a key to understanding science in the modern world."
Allison Wilson, PhD, molecular geneticist,
Science Director, The Bioscience Resource Project
"《改变的基因、扭曲的真相》揭示分子生物技术的诞生如何激起了致力于科学准确性和公众利益者和那些看到基因工程商业潜力的人之间的斗争。史蒂芬·德鲁克潜心研究写成的书将。理解这场持续的斗争,是理解现代世界中的科学的关键。"
阿利森·维勒森,博士,分子基因学家,科学主任,生物科学资源项目
"Altered Genes, Twisted Truth, Druker's exceptionally well-researched and well-written book elucidates the scientific facts about genetically engineered foods that the PR myths have been obscuring. It provides a unique and invaluable resource not only for concerned citizens, but for historians of science and technology as well. In a comprehensive and skill full manner, it demonstrates how the integrity of science was compromised as a highly influential community of biologists with special interests in genetic engineering muddled scientific truth in order to protect the image of bioengineered foods and to advance their growing partnerships with big business and government. Ultimately, the book reveals that what's at stake here is not only the safety of our food supply, but the future of science. I am pleased that Steven made good use of the extensive firsthand information I shared about the unsavory behind-the-scenes machinations of biotech promoters in both scientific institutions and government agencies, and I am very impressed with the book as a whole - expect that a large number of to the scientists will be too."
Philip Regal, PhD, Professor Emeritus,
College of Biological Sciences, University of Minnesota
"《改变的基因、扭曲的真相》,是德鲁克精湛研究、精心编写而成的书,厘清为转基因公关所构建的神话,并阐明转基因食品的科学事实。这本书,不仅对于对此感到担心的公民,而且对科技史学者提供了独特宝贵的资源。通过全面而高超的技艺,,它演示了基因工程搅乱科学特殊利益攸关的一批保护转基因食品形象、促进其扩展与大企业和政府合作关系的一伙的高度影响力生物学家,如何用使科学的完整性遭到破坏。这本书最后揭示,这里涉及的利害关系,不仅涉及我们的食品供应的安全性,而且关乎科学的未来。我很高兴史蒂芬充分利用广泛的第一手资料分析生物技术推动者在科研机构和政府机构中的一系列幕后阴谋,我对这本书整体感到印象深刻 – 我想许多科学家的反应如我一样。"
菲利普·瑞嘉勒,博士,名誉教授,明尼苏达大学生物科学学院
文章来源:
编译自《亚马逊网站》:
http://www.amazon.com/Altered-Genes-Twisted-Truth-Systematically/dp/098561690
与《可持续脉搏网站》
"
Jane Goodall and Steven Druker Expose US Government Fraud over GMOs",链接
http://sustainablepulse.com/2015/03/04/jane-goodall-steven-druker-expose-us-government-fraud-gmos/#.VPbXaPRAWk4
发布日期:2015-03-04